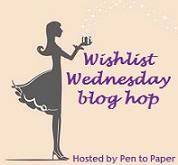 Wishlist Wednesday is a book blog hop where we will post about one book each week from our wishlist.To join you have to :
Be a follower of

Pen To Paper

Link Back to her (click "Pen to Paper" go to her blog)

Do a blog post telling your readers about the book(from your wishlist) and why it's on your wishlist.

Add your post to the linky on the host's site.



Delirium by Lauren Oliver
Before scientists found the cure, people thought love was a good thing. They didn't understand that once love -- the deliria -- blooms in your blood, there is no escaping its hold. Things are different now. Scientists are able to eradicate love, and the government demands that all citizens receive the cure upon turning eighteen. Lena Holoway has always looked forward to the day when she'll be cured. A life without love is a life without pain: safe, measured, predictable, and happy.


But with ninety-five days left until her treatment, Lena does the unthinkable: She falls in love.
I think the idea is new and exciting(a cure for love...that is something...but i'm not sure i want it ).Had it on my wishlist for quite a while now , and i really don't know why ...