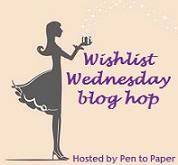 Wishlist Wednesday is a book blog hop where we will post about one book each week from our wishlist.To join you have to :
Be a follower of

Pen To Paper

Link Back to her (click "Pen to Paper" go to her blog)

Do a blog post telling your readers about the book(from your wishlist) and why it's on your wishlist.

Add your post to the linky on the host's site.



Anna and the French Kiss
by Stephanie Perkins
Anna is looking forward to her senior year in Atlanta, where she has a great job, a loyal best friend, and a crush on the verge of becoming more. Which is why she is less than thrilled about being shipped off to boarding school in Paris - until she meets Etienne St. Clair: perfect, Parisian (and English and American, which makes for a swoon-worthy accent), and utterly irresistible. The only problem is that he's taken, and Anna might be, too, if anything comes of her almost-relationship back home.

I've seen a lot of good reviews about it,the most recent one yesterday,and it finnaly convinced me to put in on my wishlist :D