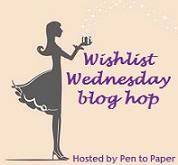 Wishlist Wednesday is a book blog hop where we will post about one book each week from our wishlist.To join you have to :
Be a follower of

Pen To Paper

Link Back to her (click "Pen to Paper" go to her blog)

Do a blog post telling your readers about the book(from your wishlist) and why it's on your wishlist.

Add your post to the linky on the host's site.
Breakaway (New York Blades #11)
by Deirdre Martin
They had it all planned out: college, marriage, happily ever after. But it didn't quite work out that way...
Erin O'Brien was everyone's favorite in Ballycraig, while Rory Brady was the town's golden boy: the local lad who moved to America and became a professional hockey player. Rory promised to return to sweep Erin away to the life of her dreams in New York. But the bright lights and late nights turned his head and he never came back.
Two years later, Rory realizes he's made the worst mistake of his life. Heading back to Ballycraig, he's confident that all he needs to do is flash his winning smile and Erin will fall back into his arms. But Erin's moved on.

Racing the clock, Rory needs to prove to her that the man she fell in love with is still there. But can happy-go-lucky Erin risk it all and give another chance to the man who broke her heart?
Well...the synopsis got me hooked.And the cover is ..awesome..What more would you want?(An excerpt, maybe...:>)

Deidre Martin is a new author to me...And since this is the 11th in a series, i was wondering if this can be read as a stand-alone, or i should begin to read the series from the start ??