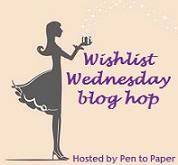 Wishlist Wednesday is a book blog hop where we will post about one book each week from our wishlist.To join you have to :
Be a follower of

Pen To Paper

Link Back to her (click "Pen to Paper" go to her blog)

Do a blog post telling your readers about the book(from your wishlist) and why it's on your wishlist.

Add your post to the linky on the host's site.
Stealing Parker
by Miranda Kenneally
About a 17-year-old girl named Parker who falls for the new 23-year-old coach of the baseball team.
I really can't wait for this one :) Ever since Hermione/Severus in HP (fanfics) the student/teacher relationships are a must read :D
(as long as the guy isn't too old;;)
).Actually i just finished reading "The Perfect Summer had to end sometime" by
DazedAndConfused
which actually haa a student/teacher pairing :)
Do i need to say more..??