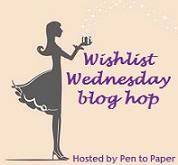 Wishlist Wednesday is a book blog hop where we will post about one book each week from our wishlist.To join you have to :
Be a follower of

Pen To Paper

Link Back to her (click "Pen to Paper" go to her blog)

Do a blog post telling your readers about the book(from your wishlist) and why it's on your wishlist.

Add your post to the linky on the host's site.
This week's selection is ....
Rules of Attraction (Perfect Chemistry #2)
by Simone Elkeles
When Carlos Fuentes returns to America after living in Mexico for a year, he doesn't want any part of the life his older brother, Alex, has laid out for him at a high school in Colorado . Carlos likes living his life on the edge and wants to carve his own path—just like Alex did. Then he meets Kiara Westford. She doesn't talk much and is completely intimidated by Carlos' wild ways. As they get to know one another, Carlos assumes Kiara thinks she's too good for him, and refuses to admit that she might be getting to him. But he soon realizes that being himself is exactly what Kiara needs right now.
I read Perfect Chemistry and liked it ,and i also like "forbidden" romances.
Now, that you know what i want,i want to see yours, so leave a comment with the link.