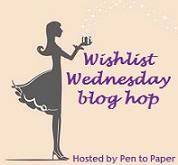 Wishlist Wednesday is a book blog hop where we will post about one book each week from our wishlist.To join you have to :
Be a follower of

Pen To Paper

Link Back to her (click "Pen to Paper" go to her blog)

Do a blog post telling your readers about the book(from your wishlist) and why it's on your wishlist.

Add your post to the linky on the host's site.
Single Girl's To Do List
by Lindsey Kelk
Sinopsys:
A hilarious and romantic standalone novel from the bestselling author of the I Heart series
Rachel Summers loves a to-do list:
• Boyfriend
• Flat
• Great job
NOT
on the list:
• Being dumped
Best friends Emelie and Matthew ride to her rescue with an entirely new kind of list – The Single Girl's To-Do List. Rachel doesn't know it, but it will take her on all kinds of wild adventures – and get her in some romantic pickles too. And then it won't be a case of what but who she decides to tick off…
• Mr. bendy yoga instructor
• Mr. teenage sweetheart
• Mr. persistent ex
• Mr. deeply unsuitable
The Single Girl's To-Do List gives Rachel the perfect heartbreak cure – and proves love is out there if you're willing to take a chance.
This sounds awesome, cute and funny.And also it has romance, which is even more interesting!(plus i love to-do lists!)

So..what is on your wishlist this week ?Today is the last day of February (the month of love) and i thought that this funny romance will be a perfect fit!