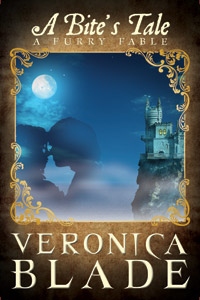 Title:
A Bite's Tale: A Furry Fable
Genre:
Young Adult Romance
Published on :
January 7th 2012
Publisher:
Crush Publishing Ink
A Cinderella who spends her nights as a wolf. A prince with a taste for blood.
Seventeen year old Cydney struggles against her werewolf nature, trying to keep everyone around her safe. No way will she risk exposing the beast at the prince's ball, no matter how her two cousins try to persuade her. Even as she attempts to get on with her life, Cydney can't forget the boy she loved three summers ago — or what she did to him after losing control.
Turned into a vampire to save his life, the prince refuses to live up to his royal duties. He just wants to find the girl he loved and lost...the werewolf girl who bit him. But his father, the king, commands him to attend a ball where he must choose a wife. Can he find his Cinderella before he's forced to marry another? He doesn't even have her real name, much less a glass slipper.
I accepted to read and review this book purely on what the blurb said.And i've done that before and found myself disappointed or left just with promise, BUT (with me there is always a but) i found out that Veronica actually delivered !
I liked how the author "dealed" with the vampires (how the mostly human Cinderella perceived them and ...just see the quote below!)
It would, but only if vampires existed



You're going to pretend you don't know about them?Look, i know they try to keep the humans ignorant,but we know better, don't we?
One thing i definitely did not like was how cliffhangery each chapter ended.But it had a really big role on my growing interest toward the sorry.
Another thing worth mentioning is
Ile de Paix
the island where the action takes place and all about it made it more like a fairy tale realm than a real world island, and at the same time it was combined with all the normal thing like college,school, cute new boy,coffee shop..etc.I liked that it was a world(OK..a island) where magical creatures do existed, and weren't hunted, they were just normal..in a supernatural way.A few examples would be the Harry Potter (the wizard world vs the normal one) and Alice in Wonderland.
This book could be easily made into a movie!
There were a few epic moments where i actually had to stop reading just so that i could reread the Fraze again, or just ponder on it..
"What are you afraid of..?" he asked, just



before I reached for the door handle.



I glanced at him over my shoulder.



"Everything," I whispered, then went inside.
I really enjoyed reading this, but it did have some flaws, like the final part of the book.Not really believable.It happened just way to fast! Gone is a second(I'm not being metaphorical or anything..)
The Characters & Their relationship!
Cinderella and Jack..quite a pair if you stop to think about all the popularity each of them has in the fairy tales realm.(I do hope you know because if you don't and you're older than 10, that's quite embarrassing...
The real names were actually Remy and Cydney.Perfect "normal" teenagers.
I would like to say that Remy grew from a teenage boy to a heir to the throne very well.I could really imagine him the next king, and it would make a great one, if i may say so..
For the secondary characters i did not dislike anyone, but i sure do want to read a romance story with the old-ancient-grumpy duty only vampire, Dunston.
Why this book did not receive 5 Stars!
In the begging i felt like I've been starting a series from the second book, very confused on who some characters were,what was going on..it got better, since this did get 4 stars!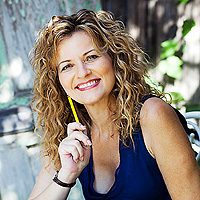 Veronica Blade lives in Southern California with her husband and children. By day she runs the family business, but each night she slips away to spin her tales. She writes stories about young adults to relive her own childhood and to live vicariously through her characters. Except her heroes and heroines lead far more interesting lives — and they are always way hotter.
Buy Link(A bite's Tale:A furry fable!)
Amazon
(Currently free for Amazon Prime members!)