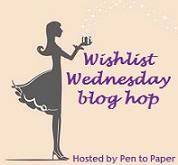 Wishlist Wednesday is a book blog hop where we will post about one book each week from our wishlist.To join you have to :
Be a follower of

Pen To Paper

Link Back to her (click "Pen to Paper" go to her blog)

Do a blog post telling your readers about the book(from your wishlist) and why it's on your wishlist.

Add your post to the linky on the host's site.
Moving Day
(Allie Finkle's Rules For Girls #1)
by Meg Cabot
When nine-year-old Allie Finkle's parents announce that they are moving her and her brothers from their suburban split-level into an ancient Victorian in town, Allie's sure her life is over. She's not at all happy about having to give up her pretty pink wall-to-wall carpeting for creaky floorboards and creepy secret passageways-not to mention leaving her modern, state-of-the-art suburban school for a rundown, old-fashioned school just two blocks from her new house.
I don't remember reading a MG book before except for the Harry Potter (the first 2 books in the series) so i thought i would give it a try..Plus, Meg Cabot is super famous right?And i still have not read a book by her..2 birds in one shot!!