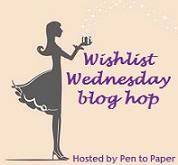 Wishlist Wednesday is a book blog hop where we will post about one book each week from our wishlist.To join you have to :
Be a follower of

Pen To Paper

Link Back to her (click "Pen to Paper" go to her blog)

Do a blog post telling your readers about the book(from your wishlist) and why it's on your wishlist.

Add your post to the linky on the host's site.
This week i chose ........
Chasing Perfect (Fool's Gold #1)
by Susan Mallery
The first in a brand-new series. Fool's Gold, California, is a charming community in the foothills of the Sierra Nevadas. There's lots to do and plenty of people to meet, especially women. There's just one problem: the men don't seem to stick around. The situation needs to be fixed, and Charity Jones may just be the one to fix it.
Why this book..well, I'm pretty familiar with Susan Mallery's style because she is the most read romance author on my list! And...I've read a book with a similar concept..except that they were females that were missing and i found it lacking in some parts and quite a few strange things.And i really liked the idea..So..Susan Mallery is a pretty safe bet !
Has anyone read it ? If so..leave links to reviews and stuff or just say what you thought about it?