Hey! Welcome to The Daydreamer's Book Obsession.Thanks for taking the time to visit.
Let's Get started, shall we?
1.
How about we start off with telling the readers a little bit about yourself?
I am a normal person who decided to start writing a few years ago. Since then, I've not stopped. I am a mother and marketer by day, and spend my free time writing all the crazy stories that pop into my head. In my spare time, I camp, fish, and do crafty stuff to keep my busy.
2.
Who has inspired you as an author?
I've been fortunate to be inspired by many amazing authors through my life. All of them have touched me in some way, however it wasn't until I found Fantasy that I really fell in love.
Within that genre, the authors who have given me the greatest inspiration are: Anne McCaffrey (sadly deceased), Anne Bishop, and Robin Hobb. All have amazing abilities with character development and spinning engaging plots that suck you in – something I strive for as an author.
3.
Tell us about Talon and where the idea came from.
Talon was born from a dare to write my first paranormal romance. I normally don't stray too far from Fantasy, but I did with this one. I got the idea from watching Robin Hood (BBC) and then built on it from there. Before I knew it, I had a Paranormal Romance that blended my love of Fantasy (elves) and Paranormal (vampires) to give you an elven vampire that is sexy, honorable and powerful. Don't get me wrong, it's not all blood and gore, because this is a highly sexual tale that uses the erotic elements to define the powerful characters I've created.
4.
What was your favorite part of the book

to write and why?
Hmm. I would have to say the fighting scenes were the most fun to write. I played around with different things while I wrote this novel and really had some fun in Talon. There is one scene in particular where Talon (title character) runs across a roof top that holds a special place in my heart because it is so visual for me. I hear the tiles shattering on the street below and feel the loose ones beneath his feet. Not to mention, I still remember writing it
J
5.
Do you have an exciting Talon teaser you'd like to share?
Excerpt from Talon:
There was a movement off to the left of where Talon moved towards the center of the room. His arm shot out and stabbed, making a sickly thudded sound as his blade collided into a body that wasn't there before. Talon felt no joy as his blade slid clean through flesh, freeing the vampire's dark blood which splattered to the stone floor. He didn't have the time. In another movement, Talon spun and ducked low as a second vampire attacked. The elf easily dodged, stepping to the side in a blur and laughing wickedly as if he were playing with toys.
"You'll have to do better than that," Talon said as he easily beheaded another vampire, sending it rolling across the floor to land at Kailani's feet. She kicked it away in distain and returned to watching her mate dismantle the Dûr Falas with pride-filled eyes.
"What makes you think these are my best?" Kaen snapped and the room exploded as ten more vampires entered.
Talon confidently walked to the center of the cavernous room. He was aware of the ten vampires circling him with blades pointed at his chest. As one, they moved to trap him, but he expected that.
One was more bold and lunged forward. Talon twisted beneath the slashing sword aimed for his neck and released a counter strike which felled that vampire to the ground. The flesh where his elven sword touched burned black and gave off a toxic fume that was acidic. Talon wasted no time though, and took advantage of the newly opened space for him to escape and in a blur; he was once again outside their circle.
Talon smiled over his shoulder, "Not good enough," he taunted.
This time, the Dûr Falas vampires were not as careless. They needed to keep that elven blade away for it burned the vampire's flesh as if it were molten metal. They pounced on Talon with a force which brought him to his knees with a grunt, but he didn't cave under the weight. What saved him and helped keep his balance was a spell that called up an elven shield. It was only visible to his eye, but stronger than steel. He could hold this as long as he needed to, but he preferred to end this.
6.
Any upcoming projects? Something you're currently working on at the moment?
Oh yes!

I have a two more books coming out with Eternal Press and a few more in the wings. There are six books total in the Flame Thrower Saga and I have other stories in varying stages of development.
Flame Thrower (Release date May 7, 2012)
Book 1 in the Flame Thrower Saga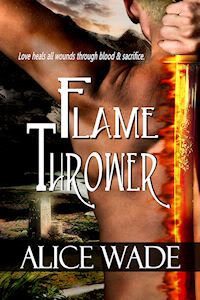 This novel is more my traditional style of writing and the first in a series of six books in the Flame Thrower saga. It spins an interwoven epic timeline spanning three different kingdoms and the families involved. These are erotic romance novels, through and through and the tag line on the cover sums up the first book Flame Thrower perfectly - 'Love heals all wounds through blood and sacrifice'. This first book sets a story arc into motion that carries through the entire saga.
Here's

the blurb to introduce you:
While out hunting with his men, King Ryan of Yorath finds a badly-beaten woman who had been left for dead by her attackers. He is surprised to discover that she is none other than Tillian, the Princess who had been reported missing by messengers from the neighboring realm of Folkyn.
Despite her injuries and the circumstances behind her disappearance, Ryan is swept by an immediate attraction for Tillian, and his vows to never marry are tested when he learns the truth behind her abduction. Tensions rise as Ryan's overwhelming need to protect Tillian leads them straight into a war that will change their lives and their kingdoms forever.
A Jewel of the Kingdom (Release date TBD)
Book 2 in the Flame Thrower Saga
Three kingdoms coexist side by side, each ruled very differently by radically different Kings. In this second story in the Flame Thrower Saga, Lysban which is a realm heavily influenced by magic, is in danger of never having a Queen to sit on the throne due to the vow King Basil made never to marry.
The Institute, a magical organization controlling legalized prostitution, decides that King Basil's vow will only bring harm to the realm and so they take matters into their own hands. They gift him with A Jewel of the Kingdom, a magically enhanced woman trained in the art of seduction and under contract with the Institution. It is their hope that Opal, the Jewel assigned, will teach King Basil to open his heart to love again, therefore allowing him to find a Queen.
Jewels are trained to remain detached from their assignment, something they disregard. Opal and Basil break this rule and fall in love, but in order to hold onto the woman who has worked into his heart, Basil must endure sharing her with others to keep their secret safe or lose her forever. While time passes, King Basil must endure a new level of torture when Opal is petitioned numerous times while in his service. He quickly discovers that jealously can burn just as bright as any anger he's ever felt.
7.
What made you want to be a writer?
I've always wanted to write. I've had a very active imagination and used to make up stories that I would chatter off to anyone who would listen. I thought hard about writing my first story when I was in college, but didn't find the courage to begin until many years later. I am glad I did, because it is a passion now, one I've missed out on for too many years!
8.
What inspires you the most?
Powerful emotional responses and the way people react to them. The more dramatic, the more hooked I am. If it makes me cry, well then, there you go.
9.
What do you enjoy doing when not reading or writing?
I camp with my family – whenever life allows it. We have a new camper that I am dying to take out this year. While camping we usually fish and recently have learned how to fly fish, something that I definitely need more practice at
J
10.
As a writer , what is one of the toughest decisions you've had to make?
Whether to kill off one of my main characters. Up to this point, my beta readers have not allowed me to do it yet (I tried, I really did). One story in particular had me in tears for I did take out some main characters and I wept for an hour grieving for their loss. It was necessary to the story however, and I get that. Sometimes, I just need to let go and just do it. For the story.
11.
While you were writing, did you ever feel as if you were one of the characters?
Nah. I get sucked into the stories though, but never got that attached that I feel I am one of them. Sometimes, when deep in the 'zone of writing' I get so lost, that I am in a fog until I can finish writing the story down. I've even gotten
depressed when I've finished the last chapter of a few of them.
12.
What genre of books do you like to read? do you limit yourself to only the genre that you write yourself?
I am a freak for Fantasy, but since I've begun writing, I've found some amazing paranormal authors that have introduced me to that genre. I don't stray very far from that though.
13.
What would you rather do: go back in time or check out the future?Why?
Go back in time. Mostly because honor still existed and people were had more challenges to endure.

I like rustic things and what gets more rustic than living in a cabin with no electricity?
14.
Is there anything else you'd like to say to the people reading this interview?
Thank you so much for stopping by to read this interview. I had a great time filling it out and answering the great questions. I hope you continue the journey and explore my world! Please do visit my website and read through what I've got posted there. I love hearing from my readers and have made some amazing friends in the process.
I can be reached (and please do stop by to say hello) at:
About Alice: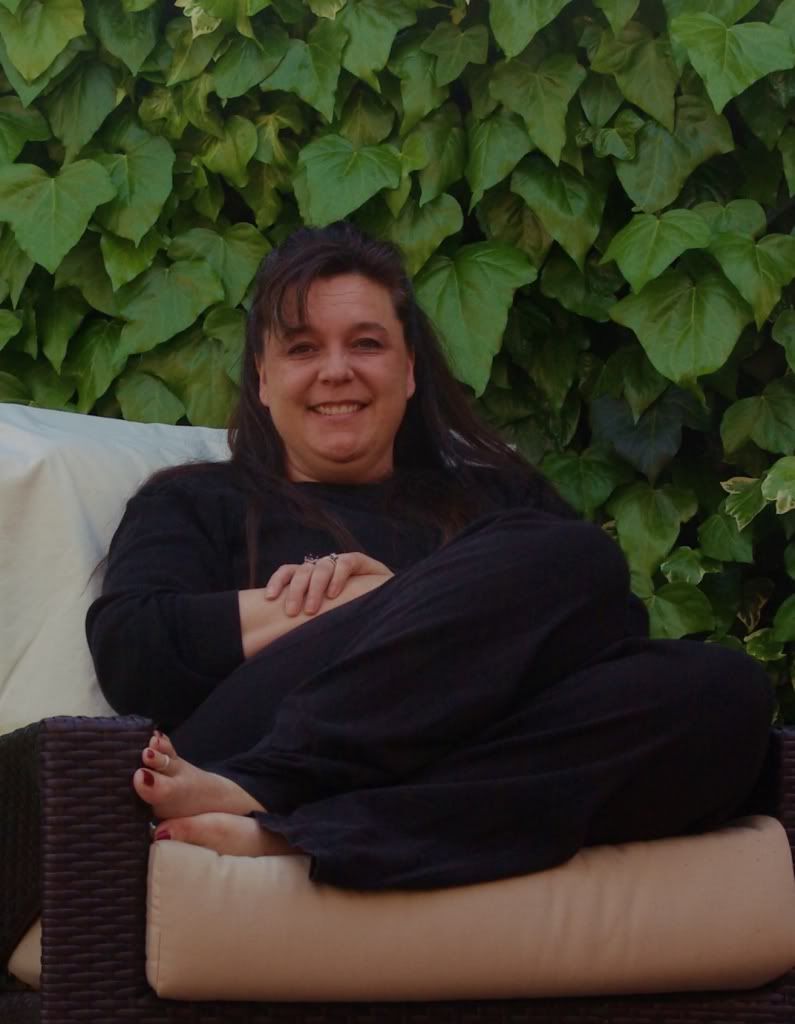 I graduated from University of California, Santa Cruz with a degree in Psychology. I am a Marketing Professional by day, writer by night and have devoted myself to using the written word to motivate emotional responses. With my writing, I've proven that anything is possible if you just try, as evident by the accomplishments to date. I have written a total of nine novels, three of which are being published with Eternal Press. Talon

(April 2012) is a Erotica/Paranormal and will be the first to release. This is followed by two books in the Flame Thrower Saga:

Flame Thrower (May 2012) and A Jewel of the Kingdom (TBD), both books are Romantic Fantasy.

I've also got one more novel (Gem) in the works and the chapters can be found on my website.

I do take breaks, however. When I am not writing, I love camping with my family (two step daughters plus husband), learning to fly fish around California, and playing with my two Boxer dogs.