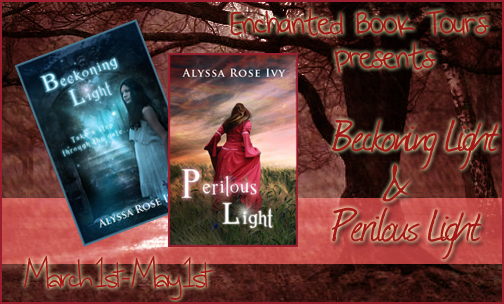 Perilous Light by Alyssa Rose Ivy
Would you sacrifice everything for a world you barely knew?
It has been over a year since Charlotte and Kevin first stepped through the gate into Energo, and neither has been able to settle back into a normal life.
Even though she tries to deny it, Charlotte is in love with Calvin and can't push him from her mind. She distracts herself with the antics of James and her growing friendship with Liam—the one person who seems to understand her.
Kevin is starting to adjust to his new identity as a college student and basketball player, but he can't seem to shake his feelings for Samantha, his fear for Charlotte's safety or the sensation that basketball is no longer enough.
When they unexpectedly return to Energo, both Charlotte and Kevin must face their fears and step up to become the leaders they were always meant to be.
"How was your coffee date?"
"I had fun hanging out with Liam," I snapped. I was overwhelmed enough with my feelings for Calvin, I didn't need James trying to make me feel guilty about spending time with Liam.
James laughed. "Okay, fine. I already know you were only there to fuel your coffee addiction. It isn't healthy, you know."
"I'm not addicted to coffee." I wasn't about to admit my weakness to James.
Thankfully, we passed the rest of the two-minute drive in silence. James parked the car in my driveway. "I have another birthday gift for you." His eyes danced with excitement as he ran his hands through his dirty blond hair. He had let his hair grow out, and he seemed more comfortable. I think he enjoyed no longer having to pretend to be someone else.
"Another?" Turning toward him, I let the door I had just pushed open close again. Over the past few weeks, James had given me a bunch of gifts. He handed me an envelope. I opened it slowly, not sure what to expect. "Wow, seriously?" I eyed the two tickets. "You got Kiev tickets? But wait…" My excitement waned as I realized the tickets were for a small venue I had never been to because it was strictly eighteen and up.
"What?" James asked with the barest hint of a smile.
"I can't get in there. I'm underage, and unlike you, I don't have a fake ID."
"You don't?" James grinned as he slid something into my palm.
I looked down to see a South Carolina driver's license with someone else's name. "You got me a fake ID?" I wasn't really surprised. James might take his role of Guardian seriously, but he never really understood or cared about a lot of the laws in my world.
"Of course I did. It wasn't exactly difficult. So we should be all set for Friday night. In case you were wondering, the second ticket is for me."
"Yeah, I figured that much. But James, do you realize how much trouble I'll get in if I get caught?"
"Well, then, it's a good thing you won't be getting caught."