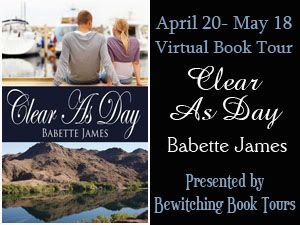 Thanks so much for letting me visit here today and share a little about my debut novel, Clear As Day.
Clear As Day
is a sweetly scorching contemporary romance from The Wild Rose Press about two friends with benefits facing the fears and uncertainties of their changing relationship. I loved writing Clear As Day, it's been a story of my heart in many ways, so seeing this story published is a dream come true. Receiving the 4 1/2 star scorcher review from Romantic Times and being able to hold my book in my hands have been truly thrilling moments. I hope you enjoy Nate and Kay's journey as much as I have.
I love listening to music at all times, but especially while I write.

Music helps me focus, helps inspire scenes, creates a mood as I'm editing, and I've collected different playlists for each story. Some scenes need quiet and lovely and sometimes the music needs to thunder along.
Clear As Day
takes place in a summer vacation setting and I began its playlist by collecting songs that made me think of summer and vacation and longing, such as "Come Sail Away" by Styx, "Brown Eyed Girl" by Jimmy Buffett, and "If You Don't Know Me by Now" by Simply Red. What I found interesting as I wrote Clear As Day, and as I am working on the sequels, is how the characters' own musical tastes shaped the playlists as their personalities emerged, some songs of which surprised me since I don't normally listen to pop or rock music. Nate loves his Jimmy Buffett collection and knows all the words to the songs. Kay is into restful, New Age Native American-inspired instrumentals.

Nate's best friend Dave plays guitar and his tastes range all over, from Metallica to Mozart. Lloyd favors contemporary rock and country, but when at the river, he breaks out the slow jazz and love songs and never turns down an opportunity to slow dance with his wife.
Here's a new excerpt sharing one of the musical moments in the story:
Dave brought out his guitar and proved whatever he'd done to his hand hadn't affected his playing as he picked skillful chords along with the soft music. Sometimes he joined in singing along, his rough-edged deep harmony compelling.
The time-warp playlists of music Dave and Lloyd brought on these trips always amused Kay. Back home, Lloyd listened to contemporary country and rock and Dave's tastes ran from Metallica to Mozart, but they left that all behind when they came to the river.
Lloyd danced with JoAnn to Coltrane and Hartman's "My One and Only Love," with the look in their eyes between them the same as when they'd danced to that song at their wedding reception seven years ago. The song ended and they stayed in their embrace, oblivious to the change in tune and tempo. Lloyd caressed JoAnn with his big, rawboned carpenter's hands, whispering into her ear, and JoAnn's face radiated utter bliss. They laughed quietly together and kissed. JoAnn caught his scruffy face in her hands. "I love you."
The weird sense she was watching a film in a foreign language struck Kay. Tears stung her eyes and she had to turn away. Damn it, she needed subtitles.
The music shuffled into the first notes of Sinatra's "Strangers in the Night." R.J. pulled Olivia from her seat, breaking off her conversation with Patti and Mark. Her yearning smile as she wrapped her arms around her husband was painful to witness.
"There's our song." Nate murmured low in her ear, saving her from the bitter whispers of the past the couple had roused. His arm stroked around her waist. "May I have this dance?"
"That's not our song. We don't have a song." But it was so easy to turn and let him take her in his arms.
He grinned. "It's our song. We were strangers. It was night."
Nate sang to Kay as they danced, his eyes and smile tender and serious. The warm, comforting need filled Kay, muting her fears as she rested in his embrace. Memories of their first hello, their first touch washed through her, sweet and hot.
I love you. Come on, Kay, what's so hard about saying those three little words
?
Nate said them so easily. He had to be wanting her to say them to him, but what she felt for him wasn't love. She couldn't lie to him.
With effort, she relaxed, and focused on the exquisite sensations of his strong body moving against hers in the dance. Memories of their lovemaking hours ago filled her. Their bodies together, she understood. That was right.
The music changed to Luther Vandross's "Here and Now."
Nate nuzzled her ear. "Feel how you make me feel," he whispered into her ear and nipped at her earlobe. They moved body to body, the hard ridge of his arousal tempting against her belly. Her body clenched with heat and damp, and she melted against him.
"Oh, babe, what you do to me. If we were alone right now…" His sexy growl trailed into a chuckle as he spun her off to the nearest beach chair and tumbled her crosswise into his lap.
Come fall in love at the river.
What's your favorite summertime or vacation music? Babette will be giving away a set of Romance Trading Cards to one lucky commenter. Please leave your E-mail address with your comment.
Clear As Day
By Babette James
Genre: Contemporary Romance
Blurb:
What's a girl to do when her summer lover wants forever?
Haunted by dark memories of her parents' volatile marriage, artist Kay Browning keeps her heart locked behind a free-spirit facade and contents herself with the comfortable affair she has every summer with easygoing photographer Nate Quinn.
The only trouble with her plan? This summer Nate's come to Lake Mohave to claim the lover he can't let go. He's done with the endless traveling and settling for temporary homes and temporary loves. Kay's always been more than just a vacation fling, and now he must convince this woman, who sees love as a course to certain heartbreak, to take that leap of faith and learn how safe love with the right man can be.
About the Author:
Babette James writes contemporary and fantasy romance and loves reading nail-biting tales with a satisfying happily ever after. When not dreaming up stories, she enjoys playing with new bread recipes and dabbling with paints. Babette is a member of New Jersey Romance Writers, where she has served on the Board. She is also a Pro member of Romance Writers of America, and the Fantasy, Futuristic & Paranormal, Celtic Hearts, and ESPAN Chapters of RWA, Liberty States Fiction Writers, and Romance Divas. As a teacher, she loves encouraging new readers and writers as they discover their growing abilities. Her class cheers when it's time for their spelling test! Born in New Jersey and raised in Southern California, she's had a life-long love of the desert and going down the shore. Babette now lives in New Jersey with her wonderfully patient husband and three extremely spoiled cats.
Web and social media links:
Website:

http://babettejames.com/
Twitter:

https://twitter.com/BabetteJames
Facebook Profile:

https://www.facebook.com/babette.james
Facebook Page:

https://www.facebook.com/BabetteJamesAuthor
Youtube Book Trailer:

http://youtu.be/E1ur-avq5YI
Goodreads:

http://www.goodreads.com/babettejames
LinkedIn:

http://www.linkedin.com/pub/babette-james/39/b5/418
Google+:

https://plus.google.com/u/0/118275338266952747490