Today we have with us the author of Shadow of the Witte Wieven, Debbie Peterson, to talk about heroes !!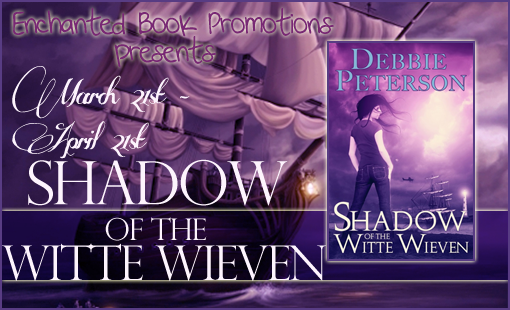 The larger than life hero. He's the man every woman wants, whether she'll admit it or not. The one that's handsome, beefy, and takes charge, even when she is quite capable of doing things herself. He can turn his lady into a puddle of mush with a single look, and at the same time, take away her breath, and quicken the beat of her heart. But more important than all that? He loves her, deeply and completely. No one else on this earth will ever come close to the woman she is, or take the place she has in his heart. Right?
Now, if we take that man and make him a seventeenth century sea captain, (because there is something very sexy about a sea captain) we have Wolfaert Dircksen Van Ness. A man who experienced a tumultuous storm within the Bermuda Triangle during a routine crossing in the seventeenth century, and uncovered the mystery of what happens to people and ships, first hand. He knows where they go.
But that doesn't mean he doesn't visit his former realm from time to time, just for the sake of adventure. And this time when he visits, he gets far more than what he bargained for.
So perhaps you might want to pull up a chair in front of a cozy fire and sail away with the captain of the Witte Wieven and his rowdy crew and see for yourself what they're up to…
Debbie Peterson, author of "Spirit of the Rebellion," is about to release her second novel, "Shadow of the Witte Wieven," through InkSpell Publishing. This paranormal romance combines a seventeenth century sea captain, a modern DEA agent, and the Bermuda Triangle to send you on an incredible adventure, filled with intrigue and romance.
Debbie has always had a soft spot for fairy tales, the joy of falling in love, and happily ever after endings. She incorporates these aspects into all of the paranormal stories she writes. When she is not busy conjuring her latest novel, she spends time with the beloved members of her very large family. She also pursues her interests in family history and all things ancient and historic.
You can connect with her:
Shadow of the Witte Wieven by
Debbie Peterson
Despite a contract on her head, lone Drug Enforcement Agent, Aliyana Montijo must ferret out a mole and stop the assassination of top DEA officials, as so ordered by the Colombian drug lord she seeks to take down. The task is a daunting one, for there is no one she can trust. No one that is, until she encounters a most unlikely ally.
Former seventeenth century captain of the Dutch West Indies Company, Wolfaert Dircksen Van Ness, now from a parallel dimension, encounters the beautiful agent during an unearthly storm in the Bermuda triangle. Drawn to the Spanish beauty he rescues, he pledges his assistance, despite her reluctance to accept either his help or his heart.
Can Wolf bridge both space and time to claim the woman he loves?