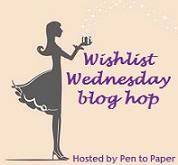 Wishlist Wednesday is a book blog hop where we will post about one book each week from our wishlist.To join you have to :
Be a follower of

Pen To Paper

Link Back to her (click "Pen to Paper" go to her blog)

Do a blog post telling your readers about the book(from your wishlist) and why it's on your wishlist.

Add your post to the linky on the host's site.
Such a Rush
by Jennifer Echols
Sinopsys:The wildly popular author of Going Too Far, Forget You, and Love Story returns with a sexy and poignant romantic tale of a young daredevil pilot caught between two brothers.High school senior Leah Jones loves nothing more than flying. While she's in the air, it's easy to forget life with her absentee mother at the low-rent end of a South Carolina beach town. When her flight instructor, Mr. Hall, hires her to fly for his banner advertising business, she sees it as her ticket out of the trailer park. And when he dies suddenly, she's afraid her flying career is gone forever. But Mr. Hall's teenage sons, golden boy Alec and adrenaline junkie Grayson, are determined to keep the banner planes flying. Though Leah has crushed on Grayson for years, she's leery of getting involved in what now seems like a doomed business—until Grayson betrays her by digging up her most damning secret. Holding it over her head, he forces her to fly for secret reasons of his own, reasons involving Alec. Now Leah finds herself drawn into a battle between brothers—and the consequences could be deadly. Engrossing and intense, Such a Rush is a captivating story from an author with a rising star.

Senior Girl.Two Brothers.She's drawn to both...do you actually expect me to say more?Cause if you do , you will be dissapointed.Like what more do you want?The Beetles../?To own Twilight,The Hunger Games, Harry Potter???!
!
Happy Reading !!