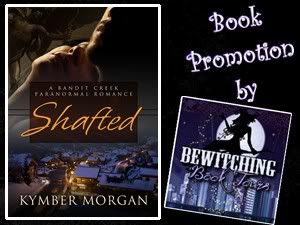 Hey Kymber! Welcome to
The Daydreamer's Book Obsession.
Thanks for taking the time to visit

and answer my questions.
Let's Get started, shall we?
How about we start off with telling the readers a little bit about yourself?
I'm afraid I'm not nearly as interesting as my characters, but okay I'll give it a shot, LOL. I'm happily married to my best friend and very own tall dark and handsome hero. We have one son - well on his way to being just as TD&H who is heading off to start his post secondary education this fall. They share me with a pair of sibling cats whose rivalry often entails a prime perch - in my lap. And I have the distinction of being center of the universe for one neurotic but loveable dog who was definitely blessed with more beauty than brains.
Born and raised at the foot of the Canadian Rockies I spent a lot of time traipsing around the mountains as a child, and still love being up there to this day. We have a favorite spot that only takes fourty-five minutes from where we live, and are out there as often as the weather permits.
I've read something about a family legend?Can you tell us more about it?
Sure can, it's one of my favorite stories. It has all the elements of a great paranormal romance and one of reasons I became inspired to write in the first place.
It's the legend of Am Bratach Sith better known as the MacLeod Faery Flag and, as with anything of it's nature, there are varying opinions on its origins along with differing versions of the legend surrounding it. My favorite, and the one true highlanders claim is the real story, goes like this:
A long ago clan chieftan found his way to the other side of the veil where he fell in love with the faery king's daughter and married her. However before long Clan duty called, and he was compelled to return to the mortal realm taking his bride with him. Unforuntately she could only stay for seven years. She bore him a son just as her time ran out and she had to tearfully leave her child behind with the chief. As she crossed over the fairy bridge back to her world, she begged that their son never be left alone, as his cries would be more than she could bear.
The fairies who favoured MacLeod were also reputed to have endowed a Clan Sect, their heraldic pipers and bards the MacCrimmons, with musical genius. So to distract the chief from his grief that night, the clan threw a feast complete with music and dancing. Unable to resist, the nursemaid in charge of the baby snuck away from the nursery to join the party. The chief discovered her there and immediately ran to his son, only to find his fairy wife already there, singing the child back to sleep. But as soon as he entered the room, she vanished, leaving behind a blanket wrapped around their son. As he reached for the baby her disembodied voice told him the blanket could be unfurled like a flag three times to save the Clan in times of great danger but warned that after three unfurling's, it's magical properties would be dissipated.
To date it's been unfurled twice. Once at the Battle of Glendale, 1490, and at the Battle of the Spoilt Dyke, 1578. Clansmen believed that the unfurling turned the tide of battle and gave them victory in both instances. And during the second World War, the 28th Chief, Dame Flora MacLeod of MacLeod, offered to wave the Fairy Flag over the cliffs of Dover at the German airforce to ensure victory. She also cut off pieces of the flag for MacLeods going off to war to keep them safe. It's beleived no Macleod son was lost in World War II.
After all these centuries, the Dunvegan Lullaby - the princess's lullaby - is still sung within the clan and the remnant fairy flag is still preserved in Dunvegan Castle, Isle of Skye.
Oh, man, I love that story!
Can you tell us about Shafted and where the idea came from?
Shafted came about out of a moment of creative insanity. One in which a group of my writer friends and I experienced the most remarkable fit of shared inspiration I've ever seen. Within a couple of hours, out of that firestorm of creativity Bandit Creek was born.
The books are a collection of thirty-three unique but related stories being released bi-monthly all set in the town of Bandit Creek, Montana. What makes the project so unique is each author is writing in their chosen genre. So if you are a historical writer, your story would take place in Bandit Creek's past; a paranormal author would pen a story with a supernatural slant et cetera.
As it turned out, my release date ended up being February 1st, 2012 and being a romance, naturally lent itself to a Valentine's Day theme. But I didn't want to write a story about the 'usual paranormal suspects' so instead of writing about Eros/Cupid, I chose to make his little-known twin brother, Anteros, the hero.
What was your favorite part of the book

to write and why?
That's a tough one. Two different scenes immediately spring to mind. The introduction to the hero telling how and why he's ended up in Bandit Creek and where he first encounters the heroine and a later scene involving his mother, Aphrodite, and a rather enigmatic demon. Both pratically wrote themselves and had me giggling like a madwoman all by myself in my little writing room.
Do you have an exciting Shafted teaser you'd like to share?
Umm, no. Just kidding LOL. Sure, this is from early on in the story so doesn't have any spoilers in it.
Anteros couldn't decide which was worse, the burning in his heart from the arrow's path, the hole in it from the enormity of his family's betrayal, or the fact he would never know a moment's freedom from the monstrous ice encased mortal currently hopping from one foot to the other screeching like a banshee as she hovered over him.
"Hey Mister? I'm sorry, really. Oh gosh, what can I do? Can I help you up maybe? Do you need a doctor? Or is there someone else I can call?"
The concern in her eyes pulled on his heart strings and, to his horror, other things as well. Stupid arrow was working all right.
"Who are you? Can you tell me your name?"
Uh, tell her his name? Come to think of it, probably not. Hmm, let's see, how did one explain such things to a mortal?
Hello, I'm a pissed off god who's been shot with the equivalent of a super love potion slash aphrodisiac by 'Stupid Cupid' and you, you lucky thing, are now the target of my every superhuman desire. Something, by the way, that will build in potency to a point I'll no longer be able to resist and will very likely jump all over you. Which really isn't working for me because the second I do, the arrow's magic will pierce you too - lovely little golden bugger that it is - and you'll fall for me against your will. In turn, my immortality goes up in smoke and I'll die the second you do.
Oh and since you asked, my name is Anteros, God of Love Returned, Dread Avenger of Unrequited Love, brother of Eros and son of Aphrodite and Ares. Let's have sex right now. How do you like me so far?
Oh, yeah, that should go over real well.
Who was your favorite character in the story?
Now that really is a tough one for me. They all ended up developing such unique personalities and funny little quirks as I wrote their story I honestly can't pick a favorite, however, if you want to know who did his best to steal the stage it was a 'certain boat herder' demon.
Charon is Anteros's poker playing bud who basically wrote himself onto the page and having done so bears no resemblance what-so-ever to the typical Ferryman we've grown to expect in mythology.
What make you choose these main characters for your book?Why did you want to tell their story?
Callie and Anteros are both strong to a fault.
At first they seem like complete opposites but deep down, where it matters, they're very much alike. They both have a very strong moral code and believe they have to sacrifice their own wishes and desires to protect others. It takes 'meeting their match' to challenge that belief, which is what makes things fun and interesting.
Do you see writing as a career or a hobby?
Any upcoming projects? Something you're currently working on at the moment?
Several actually. I'll be releasing a series of shorts stories branching off Shafted's world away from Bandit Creek which will introduce a host of re-invented secondary characters from mythology. I also have a full length trilogy in the works that's also related to this world currently on submission and another project that fits more in an urban fantasy category I can't wait to dig into, scheduled for release late this coming fall.
What scene/fragment from the book comes to mind when you think about it?
One that would be a big spoiler if I described it. What I can tell you is it's the hero's black moment and had my beta readers saying 'what the...?!' (insert evil grin here).
What do you enjoy doing when not reading or writing?
RVing and sharing a good meal and lots of laughs with friends and family.
What made you want to be a writer?
I was stricken with a major illness several years ago and while recuperating in the hospital I was reading a romance novel in which the heroine had to take a big emotional risk in order to reconnect with the love of her life. I realised this was something very few people ever have the courage to do and so potentially miss out on what could be the best thing in their lives all because of a simple lack of communication.
It was one of those 'ah ha' kind of things and as reading and storytelling has always played a big part in my life and helped shape how I tend to look at the world, I guess I wanted to give some of that back. Okay, and I thought it would be a lot of fun.
What do you do when you are not writing?
I still have a day job I'm not quite ready to let go of yet, have a huge yard I like puttering around in, as mentioned before love to go RVing, I'm a voracious reader and have, on occasion, been found at a sewing machine.
When naming your characters, do you give any thought to the actual meaning?
Absolutely. I think it's very important for the name to reflect the character. I often go through several before I find the one that feels right.
Have you had your HEA?If so..please delight us with your Love story(short version).And if the answer is no then tell us a perfect way that you would love to be "swept off your feet"?
I'm one of the fortunate people on the planet who has a HEA. One which must have been meant to be, because it took three near misses before we finally got our act together.
When we first met I was serving drinks to help pay for school and he had a steadfast rule about not dating waitresses working at his favorite watering hole.
A few year's later we ran into each other where he worked and actually made a date – which he backed out of two days later.
Six months later it was me who backed out.
Finally several months after that we ran into each other again and this time we kept the date. That was over twenty years ago and we've been together ever since.
Thanks so much for having me here today, it's been a pleasure.
Living in the shadow of the Rocky Mountains and having grown up with her own link to mythology through a family legend, Kymber loves nothing better than taking her imagination out for a spin often asking, among other things, what if the myths and legends we grew up on were real.
Come join the fun by visiting her web-site at www.kymbermorgan.com, follow her on twitter @kymbermorgan or check out her author page on Facebook, because you just never know who else may be dropping by.