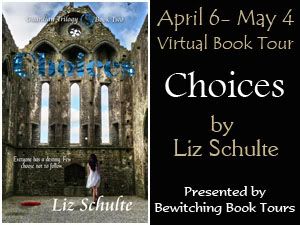 I am the author of the Guardian Trilogy, and today I'm bringing you a conversation between me and one of the main characters in the books, Holden Smith. Unlike everyone else, Holden flat out refused to do a guest post for me—
Holden- Because all of your ideas were stupid.
They were not. You could have written something about your favorite moment as a jinni.
Holden *silence* *crickets chirping*
Right, well that one could have been better.
I'll have you know I wrote you into this story, I can write you out of it too.
*Holden assesses me* Please, a few sweet words and you're putty in my hands.
*Looks away to hide the fact he might be right*
Holden- Besides, you haven't always shown good judgment. You created Quintus too. What a tool.
He's not so bad. Quintus is a very nice, very old guardian. He always means well.
Holden- He's a tool, Liz, a tool.
He is not. Stop getting me off point, you're the reason I need an editor. Tell me how you feel the second book, Choices, went.
Holden- *sighs a long suffering sigh* Better and worse than expected. I mean you **** ** **** **** *** (redacted)—and that sucked—but life went on. I got a promotion—
Holden- *looks at me disgusted* I don't have friends.
Hmmm agree to disagree. Do you still love Olivia as much as you did in Secrets?
Holden- As strange as it is and despite everything she has done, I think I love her even more. I hate all of these stupid feelings by the way. I was much better off when I didn't have them.
Nonsense. You will thank me later for them.
Holden- Hmm, we'll see about that. Anyway, the promotion turned out not to be a terrible thing. Sometimes a disgusting thing, but not a terrible one.
So where do you think you are headed in book three?
Holden- Shouldn't you know.
I know. I just want to see what you think.
Holden- Maybe you will finally let me kill Quintus. Fingers crossed.
I guess you'll have to wait and see.
Many authors claim to have known their calling from a young age. Liz Schulte, however, didn't always want to be an author. In fact, she had no clue. Liz wanted to be a veterinarian, then she wanted to be a lawyer, then she wanted to be a criminal profiler. In a valiant effort to keep from becoming Walter Mitty, Liz put pen to paper and began writing her first novel. It was at that moment she realized this is what she was meant to do. As a scribe she could be all of those things and so much more.
When Liz isn't writing or on social networks she is inflicting movie quotes and trivia on people, reading, traveling, and hanging out with friends and family. Liz is a Midwest girl through and through, though she would be perfectly happy never having to shovel her driveway again. She has a love for all things spooky, supernatural, and snarky. Her favorite authors range from Edgar Allen Poe to Joseph Heller to Jane Austen to Jim Butcher and everything in between.
Liz would love to hear from you and what you thought of Dark Corners.
Please stop by and visit at any of the below mentioned networks

: