For whatever reason you need to get a hold of me , use the following!
1.Email me at
rallu.93 (at) gmail (dot) com
2.Contact me on twitter :
@TheDaydreamer3
3.Leave a
comment
on this page .
Ifit's urgent or you want a really fast answer, email me.I DO NOT mind.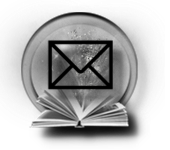 .I ALWAYS REPLY BACK.
---
Here are 10 random things about me:
I'm 20 y.o.
A College Student.
Part-time perfectionist.
I like Classy more than Trashy.
My mom got me into reading.
I'm a cancer.
I am not a native speaker(please if you see any mistakes,report them!! );
I live in Europe;
I have a wicked/strange/sarcastic sense of humour ! (Now, consider yourself warned!)
I already began my "100 things to do before I'm 25"
PS: I am now an Amazon.com Affiliate.I just find this more easy to highlight free books (See free books page at the top) and also link books that i review or highlight on the blog .It really saves me a lot of time...
---
AWARDS :
---
I have started a thing called
Themed Weekdays
.
Youtube Day; (I may post here anything that is on youtube, like movie/book trailers,scenes that i like, book hauls, book reviews, or just songs that i love)

Wishlist Day;(Anything that is on my wishlist like movies,books,bookshelf,hot guys...yeah..basically anything i want to have :>)

New Discoveries Day;(Anything i discover and like in the past week .May be book covers, books, movies ,authors, blogs ..etc);
---
All the text in italic is purely my thoughts...ramblings maybe...or me being sarcastic, you decide.
Page Views
GFC Followers :
170
Linky Followers:
19
Network Blogs Followers:
21
Email Subscribers:
16
Bloglovin Followers :
34
On
26
people's Circles (Google +)
*All the Stats will be updated weekly.